Things To Know About Breast Augmentation for Thin or Athletic Women
Submitted by Dr. Joyesh Raj on Thu 12/31/2020 - 09:00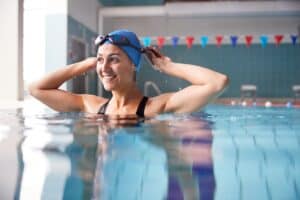 Dr. Joyesh Raj has helped women with all body types, including those with naturally lean or athletic builds, achieve the beautiful breasts they desire with implants. He is very experienced in creating customized treatment plans to help his patients look and feel their best.
In this post, Dr. Raj explains some of the unique breast augmentation considerations for thin or athletic women.
Implant Size
If you're slender or athletic, you may wonder whether breast implants will look natural on your frame. Ultimately implants should complement your natural body type, not overwhelm you.
The size of your breast implants will factor into how natural your results look. A modestly sized pair of implants can help you achieve the beautiful curves you want without making you appear "top heavy."
Dr. Raj will discuss your options with you and help you select appropriately sized implants based on your height, weight and goals. He will take measurements of your chest to ensure your implants fit your chest and do not sit too close together.
Dr. Raj can also show you before and after examples of other thin or athletic women he has worked with, so you can get an idea of how different size implants look on someone with a body type similar to yours.
Under the Muscle vs. Over the Muscle
Implant placement is another factor to consider, as the position of your implants affects the final results. Placing implants under the glandular breast tissue and above the chest muscle may not offer adequate coverage. While placing implants underneath the chest muscle offers greater coverage, the implants could shift noticeably when flexing the chest muscles.
After a thorough physical evaluation, Dr. Raj can go over submuscular versus subglandular implant placement and help you make the right choice for your body type and goals.
Recovery Considerations
If you exercise or play sports regularly, you may have some concerns about the recovery and downtime rather than the implants or surgery. Plan to take several weeks off after your breast augmentation surgery so your body can recuperate.
Dr. Raj will advise you as to your specific recovery timeframe; in general, he asks patients to refrain from strenuous activity for six to eight weeks as the breasts heal. It is important to follow his recovery instructions to minimize the risk of an adverse complication. You can resume light exercise such as walking as soon as you feel ready.
When resuming your regular exercise routine or sports activities, it is quite common to experience a slight adjustment period. Your balance, range of motion and gait may be slightly different as you get used to your newly enhanced breasts. Eventually you will learn how to adapt to your enhanced breasts and they should not interfere with your hobbies or lifestyle.
For more information about breast augmentation for thin or athletic women, please request a consultation with Dr. Raj. Call or email us today to schedule your appointment.