Leading Plastic and Reconstructive Surgeon
Dr. Raj is a top plastic and reconstructive surgeon with expertise in earlobe repair and reconstruction. Patients at his practice receive exceptional surgical care from Dr. Raj and his team of experts.
When you meet with Dr. Raj, he will ask you about your treatment goals and desired results. Together, you will put together a plan to help you achieve those results.
Repair the Effects of Earlobe Gauging
Many cases of earlobe repair involve earlobes that are stretched out and saggy because of gauges and plugs. These oversized, earring-like pieces are placed to intentionally stretch out the earlobes. Eventually, the earlobes stretch so much that they develop a hole in the middle (resembling a doughnut). When the earlobes reach this point, the skin cannot snap back and the hole is permanent. While this is a popular trend, the aftereffects can become undesirable at a certain point.
It's also common for earlobe repair candidates to have torn earlobes from big earrings. The earrings might be so heavy or oversized that they weighed down the earlobe or tore through the lower edge. Or, the earring may have been small and light but became caught on something and been accidentally ripped out (sometimes while sleeping in earrings).
More about the Procedure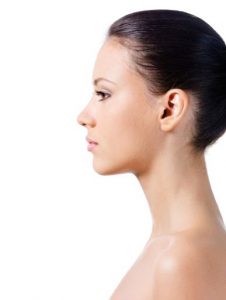 To restore a normal appearance to earlobes torn or ripped from earrings, Dr. Raj removes the inner tract of skin where the earring sits, and sews the earring back together. Earlobes that have been stretched out from gauges or plugs require more extensive reshaping and suturing.
Earlobes that are larger than average or abnormally shaped can also be fixed during earlobe repair. Dr. Raj removes excess tissue and skin or modifies the existing tissue and skin to give the lobes a more normal shape and size.
Contact Raj Plastic Surgery
If you are unhappy with torn, injured or stretched-out earlobes, consider speaking with Dr. Raj about earlobe repair. Contact Raj Plastic Surgery to schedule an informational consultation with him and discuss your goals of treatment. Call (440) 808-8030 today to make an appointment.