Our Talented Otoplasty Surgeon
Leading plastic surgeon Joyesh Raj understands the lifelong embarrassment and shame that stems from having a distracting or abnormal feature. He also knows that children can be cruel and tease each other about physical traits out of their control. As a solution to distractingly large or misshapen ears, Dr. Raj performs otoplasty on children, teenagers and adults. He prefers to treat young patients that are at least five or six years old, which is the age at which the ears typically stop growing and reach their full size.
If you are contemplating otoplasty surgery, you want to choose a knowledgeable and skilled plastic surgeon that has experience with the operation. Dr. Raj is a board certified plastic surgeon with many years of experience in facial plastic surgery. He has an eye for detail that is important in a procedure such as ear surgery. Dr. Raj's warm bedside manner is another great quality that is critical to working with children. His littlest patients respond well to his patient, calm demeanor.
Dr. Raj appreciates the opportunity he has to make a difference in his patients' lives. He is happy to use his talents to give you (or your child) a more attractive ear shape and greater self-confidence.
Better Ear Shape & Size
Otoplasty is tailored to your needs or the needs of your child. Depending on what makes you self-conscious of your ears, your otoplasty operation may accomplish the following: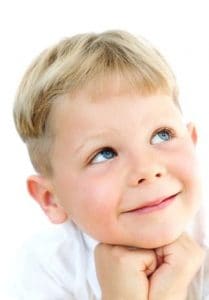 Reduce oversized ears so they are more proportional with the head
Correct a congenital or acquired deformity

"Lop ear" – the top of the ear folds down and points forward
"Shell ear" – the natural folds or other features of a normal ear are missing
Extra fold of skin

"Pin" or bring protruding ears closer to the head
Changes to the ear's shape will not affect your hearing. What will change is the way you feel about your appearance. With a normal ear appearance, most patients experience a boost of confidence. Your child will no longer be subject to unkind nicknames from classmates and peers. You can wear your long hair up in a ponytail style without fear that it will bring unwanted attention to the appearance of your ears.
Are You a Good Candidate for Otoplasty?
You may be a good candidate for otoplasty if you are in general good health, do not smoke and have specific, reasonable treatment goals for otoplasty.
Young candidates for otoplasty should be at least five or six years old and in good health. They should be generally cooperative and able to understand and follow directions regarding the procedure and aftercare. They should not have any serious illnesses or uncontrolled chronic ear infections.
What Happens during Ear Surgery?
Ear surgery is normally performed on an outpatient basis. General anesthesia or local anesthesia with sedation are used to prevent any pain or discomfort.
Ear surgery is highly individualized, and the procedure steps vary by case depending on the anatomical problem being fixed. Dr. Raj takes special care to create an ear appearance that looks natural. The incisions for ear surgery are usually made on the back of the ear, or hidden inside the folds on the front of the ear. Excess cartilage or soft tissue is removed. The ear cartilage can be recontoured and shaped as needed to recreate normal folds that are missing from the ear; they are then secured into place with internal, nonremovable sutures. After surgery, a dressing is wrapped around the ears.
Recovering from Ear Surgery
Dr. Raj provides detailed instructions for post-surgical care. He explains normal symptoms that generally occur after surgery, if and when to change the dressings around the ears and signs of possible complications. It is crucial to follow these aftercare instructions closely and take any medications as prescribed. This minimizes the risk of developing a complication.
Your ears will probably be swollen, red and may feel tender during your initial recovery. Gradually, these symptoms will resolve. You should be careful not to expose your surgical incisions to excessive force, sunlight or motion while they heal.
For approximately one week after surgery, you should rest often but move around periodically to maintain good circulation. You are advised to keep your head elevated and avoid resting your head on the treated ear(s), as this can cause pain and discomfort.
You will see Dr. Raj the day after your surgery so he can check your recovery process and ensure your ears are healing well. He can also advise when you can resume socializing, exercise and your normal activities. Most patients resume work or school within about a week and exercise after a few weeks.
If you experience any troubling symptoms such as dizziness, nausea, fevers or excessive bleeding during your otoplasty recovery, you should contact our office as soon as possible.
Scarring after Ear Surgery
The location of scarring after ear surgery depends on the exact treatment plan and the specific incisions that Dr. Raj makes. In general, he plans and places the surgical incisions in discreet locations so that any scarring is very inconspicuous.
Ear Surgery Results
Though every patient is unique, you can expect to see your results about two weeks after surgery. Your ear shape may continue to improve and stabilize for up to 12 months.
Schedule an Otoplasty Consultation
Do you want to save yourself or your child the embarrassment of oversized, misshapen or otherwise abnormal-looking ears? If so, schedule an informational otoplasty consultation with Dr. Raj by contacting his Westlake practice today.