No Substitute for Experience
When selecting the medical practitioner to perform your spider vein removal, it is important to choose someone with the right combination of training, experience and skills. Without one of these elements, you risk poor results or even adverse complications. As a leading plastic surgeon, Dr. Raj is uniquely qualified to perform your spider vein treatment. He understands the factors that contribute to the development of spider veins (e.g., genetics, pregnancy, hormonal fluctuation), and he has the technology needed to reduce the appearance of the veins. Dr. Raj is the practitioner of choice for individuals seeking vein treatment in our area.
More about Spider Vein Treatment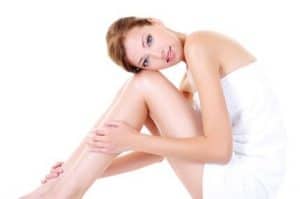 Sclerotherapy and laser vein removal are safe, non-surgical procedures that produce great results without pain or downtime. The treatment Dr. Raj selects for you is based on factors such as the size and location of your veins.
Sclerotherapy is the traditional form of vein removal that can be used on medium-sized blood vessels. During a sclerotherapy treatment, a special liquid, called a sclerosing solution, is injected into the vein with a tiny needle. The solution shrinks the vein; then, it turns white and eventually disappears. Compression stockings may be recommended to put gentle pressure on the veins and legs as they heal.
Laser vein treatment is the more modern form of vein removal, and can be used to treat small to medium-sized blood vessels, including those on sensitive areas like the ankle and face. A laser sends pulses of light through the skin, and the light is attracted to and absorbed by the blood in the vessels. The vessels coagulate and are absorbed by the body, eventually disappearing from view.
Both forms of spider vein treatment may require multiple treatments to achieve the desired results. Initial improvement may be seen after the first treatment, with results gradually improving. New spider veins may form over time and require additional treatments in the future.
Schedule a Vein Removal Consultation
Dr. Raj is happy to meet with you, examine your spider veins and develop a suitable plan of treatment. Please contact Raj Plastic Surgery to schedule a consultation and discuss your personal needs and treatment goals. Call (440) 808-8030 today to schedule an appointment.