The Surgeon Patients Turn To for Beautiful Breasts
Choosing the right plastic surgeon is the best thing you can do to ensure great breast augmentation results. With Dr. Raj, you could not be in better hands. He is a board certified plastic surgeon that has fine-tuned his surgical skills in his many years of practice. As an active member of prestigious industry associations and Chief of Plastic Surgery at a local hospital, Dr. Raj is the doctor women in Cleveland and the surrounding areas trust for beautiful results and a safe surgical experience.
While many patients have similar requests and goals in mind, Dr. Raj believes there is no "one-size-fits-all" solution when it comes to breast augmentation. The trusted surgeon will work with you to design a treatment plan based on your anatomy, aesthetic concerns and desired outcome.
Bigger, Fuller Breasts with Implants
It is common for women to seek out breast implants to enhance the balance and proportion of their body and to look more classically feminine. The surgery is not performed purely for cosmetic effect; Dr. Raj has noticed a palpable improvement in his patients' self-confidence after surgery.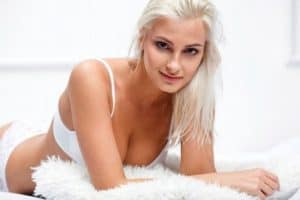 With bigger, fuller breasts, you can finally wear the low-cut shirts and dresses that you desire. Bikinis and workout gear will fit and flatter your figure. You will feel more comfortable at the gym, beach and pool. Your breasts will match your feminine and vivacious spirit. Modern-day breast implants are designed to be very long-lasting, so you can enjoy your results for years to come.
You may be a suitable candidate for breast augmentation if you:
Have naturally small or asymmetrical breasts
Have deflated breasts due to pregnancy, breastfeeding, weight gain, aging
Are in generally good health
Do not smoke
Understand the risks of breast augmentation
Have realistic expectations of surgery
Your Breast Implant Options
You have two choices of breast implants: saline and silicone. There are pros and cons to both, and Dr. Raj will review your options with you in detail during your consultation. One of the most distinct differences is that due to the nature of the saltwater filling, in the case of a leak or rupture a saline implant immediately deflates. On the other hand, thick, sticky silicone gel behaves differently, and silicone implants mostly retain their shape if the shell experiences a complication. However, most women believe that silicone implants have a more natural look and feel. This is the type of information you will need to weigh before making a decision.
Breast implants are placed through incisions made on the breast. Dr. Raj is careful to make the incisions in such a way as to minimize post-operative scarring. The implants are placed in front of or behind the chest muscle, depending on factors such as your anatomy, lifestyle and personal preferences.
Breast augmentation can be combined with breast lift techniques to simultaneously elevate and fill out the breasts. The incision pattern may vary slightly to enable Dr. Raj the access he needs to lift the breasts and to place implants.
View some of our patients' results at our breast augmentation before and after photo gallery.
Breast Augmentation Recovery
Dr. Raj will discuss the breast augmentation recovery period with you prior to surgery, giving you a general timetable and idea of what to expect.
Immediately Following Surgery
Immediately after surgery, Dr. Raj will bandage your breasts and place a supportive garment around them. This garment applies steady, gentle pressure to the healing tissues and makes you more comfortable as you recover.
Plan to have someone drive you home from surgery and stay with you for at least 24 hours. You are likely to feel groggy as the anesthesia wears off, and you may need assistance getting into a comfortable resting position and getting food or essential items. If you have children, pets or elderly parents that rely on you, you should have reliable help to care for them as you focus on your recovery.
Avoid bending, straining or heavy lifting the first few days after surgery, as these movements can put too much pressure on your healing breasts.
Dr. Raj will prescribe medications to alleviate pain and reduce the risk of infection; take these medications exactly as prescribed. You may find it useful to keep a written log of when you take the medications, so you don't accidentally skip a dose. Prescription pain medication can lead to constipation, and many patients take stool softeners while on the pain medication.
Expect to see Dr. Raj for a follow-up appointment within one week of surgery. At that point, he will remove the bandages, examine your healing breasts and answer any questions you have.
Aftereffects
Mild bruising, swelling and discomfort in and around the chest are common after surgery. These aftereffects may peak about 24 hours after surgery before starting to subside. The compression garment should control swelling, and over-the-counter or prescription pain medication relieves discomfort. Other aftereffects include a tight sensation in the breasts, itching of the breast skin and limited range of motion when lifting the arms.
If you develop a fever or significant pain after surgery, or notice discharge from your incisions, promptly contact Dr. Raj, as these symptoms can suggest an infection.
Incision Care
Dr. Raj will give you complete instructions for incision care. In general, keep your incisions clean and dry.
Continue to wear your supportive garment until Dr. Raj permits you to switch to a normal bra. Underwire bras can irritate the healing incisions and cause complications.
Resuming Normal Activities
Getting up and moving around is important to breast augmentation recovery, as long as you are gentle with your healing breasts. You should walk a few minutes every few hours during recovery to promote good circulation and minimize the risk of blood clot formation.
Most patients resume work one to two weeks after surgery. If your job is physically strenuous, you are likely to need additional time to recuperate.
Light exercise, such as walking on a treadmill, is generally permitted three weeks after surgery. Dr. Raj will clear you to resume strenuous exercise and heavy lifting approximately four to six weeks after surgery. It is recommended that you gradually increase your level of activity, and that you stop and consult Dr. Raj if you experience any pain during workouts.
FAQs
Are breast implants safe?
Saline and silicone implants are safe and FDA approved for breast augmentation and other related procedures.
Is the procedure painful?
Breast augmentation is not painful as patients are under anesthesia throughout the entire procedure. Following your procedure, we will prescribe pain medication to minimize post-op discomfort.
Do implants need to be replaced?
Implants do not need to be replaced unless you are unhappy with your size or appearance, or you experience a rare complication.
Can breast augmentation correct breast sag?
Breast augmentation is not considered to be an appropriate solution for breast sag (ptosis). In some cases, bigger, fuller breasts may worsen breast sag. If you wish to have bigger, perkier breasts, Dr. Raj can combine breast augmentation with lift surgery.
How do I choose my breast implants?
The right implants for you will depend on a variety of factors including your personal preferences and lifestyle. Dr. Raj will work closely with you to help you determine the right implant size and type for you. He also has implant sizers available in his office that you can try on to better visualize your results.
Is breastfeeding with implants safe?
Yes, breastfeeding with implants is safe. Clinical studies and research have found that breast implants pose no threat to the woman's body or baby. However, it is possible that certain incision patterns used to place implants can interfere with the milk ducts and thus make it difficult for a woman to breastfeed properly. If you are concerned about nursing following breast augmentation, please let Dr. Raj know so he can choose an appropriate incision pattern and implant placement.
When can I return to work?
Each patient heals at a different pace, but most patients are able to return to work at the one or two week recovery mark. Dr. Raj can give you a more accurate recovery timeline during your initial and post-op follow-up appointments.
What are the side effects and risks associated with breast augmentation?
Common side effects following breast augmentation include swelling, bruising and breast tenderness. Post-op complications are rare and include infection, capsular contracture and loss of sensation in the breast and/or nipples. Dr. Raj will go over all possible side effects and complications with you during your initial consultation.
Talk to Dr. Raj about Breast Augmentation
To explore your breast augmentation options in greater detail with Dr. Raj, please schedule a personal consultation. Call Raj Plastic Surgery today at (440) 808-8030 to make an appointment.