Cleveland Cosmetic & Plastic Surgeon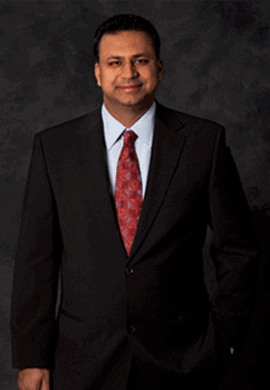 A leader, scholar, and artist in medical science, Dr. Joyesh Raj is the founder of Raj Plastic Surgery and former Chief of Plastic Surgery at Fairview Hospital in Cleveland, Ohio.Dr. Raj grew up in Westlake, Ohio and graduated from Lake Ridge Academy. He graduated with honors in Economics and Biology from The University of Chicago and earned his medical degree from the University of Cincinnati. His post-graduate years in general surgery residency were at Fairview Hospital and were followed by a plastic surgery residency at the University of Colorado. Dr. Raj pursued additional cosmetic training with some of the most celebrated cosmetic surgeons in Miami and New York City before returning to Denver to serve as the Director of Cosmetic Surgery for the University of Colorado Medical Center. During his tenure at the University of Colorado as an Assistant Professor of Plastic Surgery, he performed adult and pediatric reconstructive and hand surgery at Denver Children's Hospital, Denver Health Medical Center, and the VA Hospital in Denver. While on staff at Denver's Children's Hospital Dr. Raj encountered many children suffering with congenital deformities. In order to help the unfortunate children who were unable to access benefits through insurance due to the cosmetic correction involved with surgical procedures, Dr. Raj founded the BAR Children's Foundation to help raise funds to help these children obtain the care necessary to enhance their appearance and self-esteem.
Dr. Raj returned to Ohio to open his cosmetic and reconstructive plastic surgery practice in Cleveland where he treats both children and adults. He established Raj Plastic Surgery to provide a safe and honorable plastic surgery alternative for patients in Northeast Ohio. His clinical interests include cosmetic surgery, minimally invasive and non-invasive aesthetic procedures, and major reconstructive surgery, including breast reconstruction, post-bariatric body contouring, limb salvage, hand and micro-vascular surgery.
In addition to being an accomplished writer, educator and speaker who has lectured both nationally and internationally about cosmetic and reconstructive surgery, he has also authored numerous peer-reviewed scientific journal articles, abstracts, and book chapters.
Dr. Raj is certified by the American Board of Plastic Surgery and is an active member of the American Society of Plastic Surgery and the American Society of Aesthetic Plastic Surgeons.
Click here to download Dr. Raj's Curriculum Vitae.