Morpehus8 RF Microneedling in Westlake & Cleveland, OH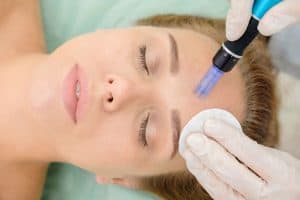 As you age, your skin loses its elasticity, in large part due to a natural decrease in your body's production of collagen. If you are interested in a treatment that rejuvenates the skin, you can benefit from RF (radiofrequency) microneedling. This is a non-surgical procedure designed to stimulate new collagen production to achieve skin with better tone and texture.
For his microneedling patients, Dr. Joyesh Raj uses Morpheus8, the most respected technology in radiofrequency microneedling available today. It is the deepest microneedling treatment approved by the FDA, with needles that can penetrate the skin up to 8 millimeters. Morpheus8 also comes with different sized handpieces, making it appropriate to treat areas of the skin that are both large and small, including the face, abdomen, arms and knees.
Benefits of Morpheus8 RF Microneedling
While the top benefit of RF microneedling is the skin tightening, this minimally invasive procedure is also known to address a variety of flaws on the skin, including:
Wrinkles and fine lines
Hyperpigmentation
Stretch marks and cellulite
Scars/acne scars
Age spots
Enlarged pores
How Microneedling Works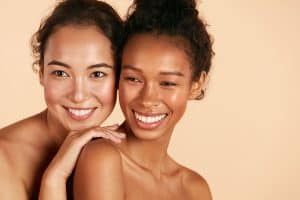 The Morpheus8 handpiece features dozens of miniature needles, which make a series of tiny puncture wounds. While these micro-wounds do not cause any significant damage to your skin, they do prompt your body to boost its production of collagen and elastin. In turn, this extra supply of proteins adds youthful volume to the skin.
The radiofrequency is a powerful addition to this treatment because it further increases collagen production. Furthermore, because the warmth from the RF energy reaches deeper beneath the skin, this helps to make the skin even smoother and less wrinkly.
Safety of Morpheus8
Dr. Raj is pleased to say that RF microneedling is an extremely safe skin care treatment with minimal risks for complications. Better still, it is a great treatment for people of all skin tones and types: certain comparable treatments are not advised for people with darker complexions since they may cause hyperpigmentation.
You may not be a good candidate for Morpheus8 if your skin is prone to scarring, you have cold sores or other skin infections, you are pregnant or nursing or you are undergoing chemotherapy. During a consultation, Dr. Raj reviews your candidacy to determine if you are a suitable candidate for treatment with Morpheus8.
Morpheus8 Recovery and Results
You will not experience downtime after a microneedling treatment, so you will be able to return to work and other daily activities as soon as you leave our office. Your skin will probably look red and irritated (similar to a sunburn) for a few days, so you may decide to limit your social interactions until that has improved.
After one day, you can begin to apply makeup to help conceal any bruising and irritation. Be sure to apply sunscreen before leaving the house since sun exposure can harm your sensitive skin.
Results from Morpheus8 are not immediate since collagen production increases over time. Therefore, it may be a few weeks before you start to notice changes to your skin. Peak results usually manifest a few months after your treatment. Most people choose to undergo multiple microneedling sessions (spaced at least 30 days apart) to maximize the benefits.
FAQ Morpheus8 RF Microneedling
What is Morpheus8 RF microneedling?
Morpheus8 is a minimally invasive bipolar radiofrequency device that can deliver customized treatments for each patient. The device inserts a number of very thin needles into the skin, which creates micro-wounds that activate the skin's natural healing process. It can deliver energy more deeply into the skin than other comparable treatments and uses that energy to generate heat and stimulate collagen production. It can allow patients unwilling to undergo surgery to reduce wrinkles, sagging, and acne scarring, while improving the tone, texture, and overall appearance of the skin.
How does Morpheus8 RF differ from traditional microneedling?
Traditional microneedling uses ultra-fine needles that are inserted into the skin to create micro-injuries. Morpheus8 differs from this in several ways:
Combines technologies: Morpheus8 combines the effectiveness of microneedling with radiofrequency energy, which enhances the effect of the treatment.
Penetrates deeper: Unlike traditional microneedling, Morpheus8 RF microneedling has the ability to penetrate deeper into the skin through the use of needles and thermal penetration. The result is a significant improvement in the look of fine lines and wrinkles, deep creases, enlarged pores, rough or uneven skin texture, and mild skin sagging.
Suitable for many skin types and textures: Morpheus8 is a safe and effective treatment for all skin types and textures, which differentiates it from other skin resurfacing treatments.
Am I a candidate for Morpheus8 RF microneedling?
Candidates for this treatment often share some of the same skin concerns, including wrinkles and issues with hyperpigmentation or other skin unevenness. The Morpheus8 treatment appeals to those that would like to address a number of these concerns at one time. To know for sure if you are a good candidate for this treatment, schedule a consultation with Dr. Raj soon.
What can Morpheus8 RF microneedling treat?
Because it can achieve a number of corrections at the same time, Morpheus8 is an ideal solution for facial rejuvenation. The treatment can address skin concerns such as:
Accumulation of fat beneath the chin
Sun damage
Enlarged pores
Wrinkles and fine lines, including crow's feet and frown lines
Scarring, including acne scarring
How many sessions are needed?
For best results, we recommend three treatments; and to maintain results, an annual treatment. If you have specific skin concerns, speak with Dr. Raj, who will create a treatment plan customized to your specific needs.
What skin types and skin tones does Morpheus8 work on?
Where other cosmetic resurfacing treatments may lead to hyperpigmentation in certain skin tones, the Morpheus8 RF microneedling treatment is ideal for individuals of all skin tones and types. However, if your skin is prone to scarring, Dr. Raj may recommend alternative treatments to ensure an optimal result.
Is Morhpeus8 painful?
At Raj Plastic Surgery, we take great care to ensure the comfort of our patients. Individuals receiving Morpheus8 treatment may experience some discomfort during the procedure, but measures are taken to minimize this and provide a pleasant treatment experience.
Schedule an Appointment for RF Microneedling
Surgery is not necessary to reattain smooth, young-looking skin. If you would like to discover what kind of changes Morpheus8 can achieve for your skin, please schedule a consultation at Raj Plastic Surgery by calling 440-808-8030.