Trust Dr. Raj for Chin Implants
It is important to choose a surgeon with the appropriate training, certification, experience and demeanor. You should work with a surgeon who makes you feel comfortable and well cared for, and who listens closely to your treatment expectations.
Dr. Raj is a leading board certified plastic surgeon with years of experience performing chin augmentation and other facial rejuvenation procedures. In addition to being technically skilled, Dr. Raj has an astute eye for artistry. He values proportion and balance, which are important concepts to facial surgery. Above all else, he works hard for natural looking results.
Permanently Improve Your Features
Chin augmentation could help substantially if you:
Have a weak or receding chin
Desire a more defined jawline to frame your face
Think a stronger chin could help distinguish your neck
Wish to restore contour and proportion to your facial structure
Need to correct a facial deformity (either congenital or acquired after an injury)
Placing a chin implant, performing fat transfer or modifying the jawbone adds shape, structure, definition and projection to the chin. Not only does it improve the appearance of the lower region of the face, it also enhances the balance and harmony between all of the facial features. The nose often looks smaller after chin augmentation. The jaw frames the face and the neck looks more distinguishable from the lower face.
Chin Augmentation Options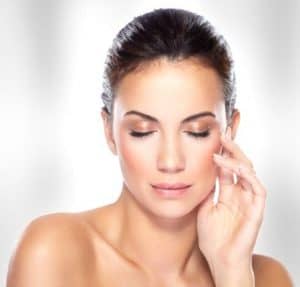 There are several ways to augment the chin:
Place a facial implant. Chin implants come in different sizes and shapes to suit various needs. Typically made from solid silicone rubber, chin implants can produce a subtle or dramatic effect, depending on what you prefer.
Perform fat transfer. Another option for chin augmentation is fat transfer. What this involves is grafting your own fat from another area of your body and injecting it into the chin and along the jawline to add shape and structure.
Modify the facial bones. The third option for chin augmentation is to reposition the jawbone to lengthen the chin and/or correct asymmetry. The lower jawbone is advanced and secured into position. This procedure is known as sliding genioplasty.
Schedule a Consultation with Dr. Raj
If you are interested in chin augmentation for a stronger, more defined chin, Dr. Raj can help. Contact Raj Plastic Surgery to schedule a consultation with Dr. Raj and talk about your treatment options. Call (440) 808-8030 today to make an appointment.