Slims and reshapes flabby upper arms
Arm lift, or brachioplasty, is a contouring procedure that improves the appearance of flabby or bulky upper arms. Dr. Raj removes excess skin and fat and reshapes the underlying tissue to create a more attractive arm contour.
Reduces localized areas of surplus fat
Liposuction reduces pockets of unwanted fat from around the body for a slimmer and smoother shape. It can be performed on many areas of the body, including the abdomen, hips, thighs, buttocks, knees, back, upper arms, chin and neck. i-Lipo technology is available as a less invasive form of liposuction that does not require recovery downtime.
Improves a poorly defined shape after bariatric surgery
It is common for individuals that have experienced rapid, massive weight loss through bariatric surgery to be left with loose skin and poor body contours. Post-bariatric body sculpting removes loose skin, tightens the remaining skin and refines the overall shape of the body.
Eliminates the "apron of skin" left over from massive weight loss
Lower body lift is a body contouring procedure that eliminates excess fat and skin from the torso (i.e., abdomen, hips and lower back), usually after massive weight loss. The procedure also lifts the buttocks and outer thighs and tightens the abdominal muscles.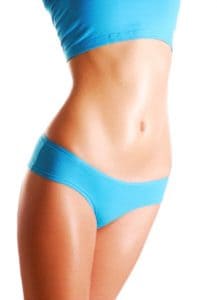 Tightens an abdomen ravaged by childbearing or massive weight loss
Tummy tuck flattens and firms the abdominal contour. During the procedure, excess fat and skin are removed, damaged abdominal muscles are repaired and the remaining skin is tightened. The procedure is mostly performed on women that have experienced changes in their abdomen after having children, or individuals that have lost a significant amount of weight through bariatric surgery.
Treats oversized, misshapen or asymmetrical labia
Labial reduction reshapes and resizes the folds of skin surrounding the vulva. This is performed for cosmetic reasons, to reduce physical discomfort and to enhance sexual sensation.
Schedule a Body Contouring Consultation with Dr. Raj
If you are self-conscious of a certain area of your figure, and interested in exploring your surgical treatment options, please schedule a consultation with Dr. Raj. Call (440) 808-8030 today to make an appointment with him and discuss your personal needs and goals.