Minimizes signs of aging in the mid and lower face
Facelift is the gold standard in facial rejuvenation because it tightens and lifts the facial structures and skin to visibly reduce signs of aging. Dr. Joyesh Raj provides Cleveland facelift procedures for patients that are looking to correct mid-face sagging, deep creases or folds, displaced fat, or loss of healthy skin tone in the lower face.
Facelift can incorporate a neck lift or cheek lift component, if needed, to target additional areas.
Tightens and tones the neck and jawline
Neck lift minimizes signs of aging on the neck and along the jawline. It can reduce the appearance of jowls, excess fat deposits on the chin (i.e., a "double chin), horizontal muscle bands on the neck and loose neck skin. Some patients find that their neck ages more quickly than their upper face, so they opt for neck lift surgery instead of facelift.
Improves the size or shape of the nose
Rhinoplasty can address a variety of cosmetic problems of the nose, including:
oversized or crooked nose
bump on the bridge of the nose
asymmetrical or flared nostrils
undefined or bulbous tip
Tightens loose upper and/or lower eyelids
Eyelid surgery addresses loose or sagging skin on the upper and/or lower eyelids. In some cases, this skin impairs the line of sight. It can also correct eyelid puffiness, undereye bags and fine wrinkles on the lower eyelids.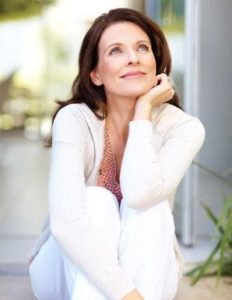 Elevates the brow and/or smoothes forehead wrinkles
Forehead lift, also known as brow lift, is designed for two purposes: to elevate a drooping brow and to minimize horizontal wrinkles across the forehead. This gives the face a more youthful, rested and pleasant expression.
Creates more definition and projection of the chin
Chin augmentation is a procedure to enhance the balance of the facial features. It gives a small, weak or receding chin more definition and projection. This is accomplished through the placement of a chin implant or by moving/reshaping the bones.
Repairs torn, stretched or abnormally shaped earlobes
Earlobe repair reconstructs earlobes that are damaged in some way. It repairs earlobe holes that have been ripped, torn or stretched out with large earrings or "gauges;" it can also correct enlarged lobes and other defects in the earlobes' shape.
Reduces oversized ears and/or brings protruding ears closer to the head
Ear surgery (otoplasty) reduces oversized ears; it can also fix ears that project too far from the head. Otoplasty is commonly performed on young children that feel self-conscious of their ears.
Adds shape and volume to thin lips
There are a few ways to augment thin or small lips: through the placement of an implant, with dermal filler injections or with fat transfer. All of these options create a full and sensuous result.
Nourish and protect your most valuable organ
Let Dr. Raj and his team develop an at-home routine for you filled with products designed to nurture your skin. We offer several leading skin care lines at our practice.
Schedule a Consultation at Raj Plastic Surgery
If you would like to learn more about your facial plastic surgery options, please schedule a consultation with Dr. Joyesh Raj. Call (440) 808-8030 today to make an appointment.