Experience Matters
When the health and beauty of your skin is at stake, a knowledgeable and experienced doctor should be in charge of the treatment. Laser skin resurfacing requires the use of a state-of-the-art laser and demands careful, precise technique. When performed by a board certified plastic surgeon, laser treatment is generally safe.
Rest assured that Dr. Raj has successfully performed many laser skin resurfacing procedures and is very comfortable handling such advanced equipment. He has a low rate of complications. Dr. Raj is the physician of choice for individuals that want to repair and rejuvenate their skin without the use of needles or injections.
Clearer, Smoother Skin Can Be Yours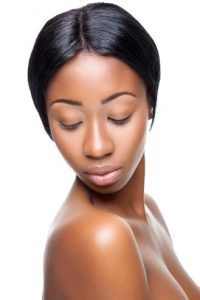 If your skin looks blotchy, uneven, wrinkly or leathery, you might be a great candidate for laser skin resurfacing. Treatment addresses the most common concerns in the quality and texture of the skin (including laxity, lines/wrinkles, scars and spots). After laser skin resurfacing, the skin feels firmer and looks smoother and more even in tone. You will look younger and healthier!
The best part is that you can achieve your skin rejuvenation goals with little healing and downtime. The laser can treat the skin at different depths; a superficial treatment requires a shorter recovery, and a deeper treatment requires additional time. Generally, the post-treatment recovery is much easier and shorter than that of a surgical procedure (such as facelift or eyelid surgery).
Treatment Details
Laser skin resurfacing involves sending short pulses of light to the upper layers of the skin. The light creates tiny injuries and, as the treated area heals, fresh healthy tissue emerges. The result is more beautiful and younger looking skin.
Depending on your specific skin rejuvenation goals, Dr. Raj can select from a few different laser skin resurfacing techniques. He will evaluate your particular areas of concern and examine the thickness of your skin before recommending the most appropriate course of treatment.
Ablative lasers administer a uniform injury to the skin to remove the outermost layer of damaged skin. Nonablative lasers send energy to the deeper layers of the skin, creating heat and causing the production of fresh collagen. Fractional lasers make tiny holes in a special pattern within the deep layer of the skin; the skin then tightens to bridge the space between the micro-injuries.
It typically takes about a week for new skin to form. Gradually, the tone and texture of your skin will look noticeably better. Although laser skin resurfacing does not stop the aging process, you can enjoy the long-lasting results for years to come.
Schedule a Skin Care Consultation
To learn more about laser skin resurfacing with Dr. Raj, please contact Raj Plastic Surgery today. Call us at (440) 808-8030 to schedule an appointment today.