How Dr. Raj Can Help
Dr. Raj is a talented and experienced plastic surgeon who is committed to helping his patients feel better about their bodies and more confident. He believes in the power of cosmetic treatment to transform his patients' self-image and improve their quality of life. Breast lift is one of the most gratifying procedures that a woman can undergo.
An expertly performed breast lift transforms the position and shape of the breasts, giving them a more youthful quality. With perkier breasts, your bras and clothing will fit better and hug your figure. Your self-confidence will skyrocket, especially if you have spent years feeling unhappy with your breasts. You will look and feel as sexy as you did during your teens and twenties — before nursing, aging and gravity took their toll on your breasts.
View some of our patients' results at our breast lift before and after photo gallery.
Better Breast Shape and Position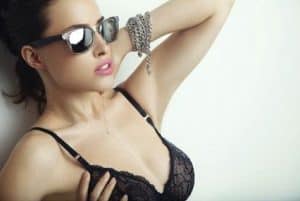 Breast lift relocates the breasts to a more attractive position on the chest wall. It gives flat or "deflated"-looking breasts a better shape. If one of the breasts hangs lower than the other, breast lift can correct this asymmetry and restore the balance between the breasts. It can also correct downward-pointing nipples and stretched-out areolas. A talented surgeon like Dr. Raj can accomplish this with thoughtfully designed incisions for minimal scarring.
Are You a Good Candidate for Breast Lift?
You may be a suitable candidate for breast lift if you are unhappy with flat, saggy breasts and downward-pointing nipples. The low, sagging position of your breasts could be attributed to pregnancy, nursing, weight fluctuation, aging, genetics or the effects of gravity.
To qualify for surgery, you should meet the following criteria:
You are in good physical and psychological health.
You understand the potential risks of surgery.
You understand that surgery can improve (not perfect) the appearance of your breasts.
You have a positive attitude.
You do not plan to become pregnant and nurse in the future, as pregnancy and breastfeeding can jeopardize the cosmetic benefits of surgery.
You should schedule an informational consultation with Dr. Raj to discuss your candidacy for the procedure in more detail and undergo a physical examination.
Preparing for Breast Lift
Dr. Raj and our team will give you thorough preoperative instructions and address any questions or concerns you have in the days and weeks leading up to surgery.
In general, you should avoid taking aspirin and other medications that can increase the risk of bleeding during and after surgery (we will provide a complete list). You should not smoke, and you should limit alcohol consumption. You should eat a balanced diet, limit sources of stress and get plenty of sleep.
It's also wise to prepare for your day of surgery and recovery by making plans for a loved one to drive you to and from surgery and stay with you for the first 24 hours after your operation. You can fill your prescriptions, stock your fridge with high-protein, low-sodium foods and do laundry so you have tops that open in front to wear during your recovery. You can also organize all of the supplies you think you will need during recovery so they are easily accessible (remember that you will not be able to lift your arms above shoulder height for a few weeks).
More about the Procedure
Cosmetic breast surgery is highly individualized. Your breast lift will be tailored to your specific areas of concerns and desired outcomes.
Breast lift is performed through incisions made in the bottom crease of the breast and around the areola. Through the incision(s), the breast tissue is reshaped and tightened to create the breast mound higher on the chest wall. Internal sutures may be placed to support the new contour. Excess skin is also removed and the remaining skin is tightened over the breasts. Oversized areolas are reduced and downward-pointing nipples are corrected.
Breast lift may be combined with another breast procedure to address the breast size. For example, if you desire perkier and bigger breasts, breast lift and breast augmentation with implants can be performed simultaneously. If you desire perkier and smaller breasts, breast lift and breast reduction is the better choice.
Recovering from Breast Lift
After your surgery, a compression bra (similar to a sports bra) will be placed around your breasts to support the healing tissues and minimize swelling. You should wear the compression bra until Dr. Raj advises you to remove it and switch to a standard sports bra or regular bra with underwire.
You may have some discomfort as the anesthesia wears off; to alleviate this you can take pain medication as prescribed by Dr. Raj. In the first few days following surgery, you should limit your physical activity and avoid bending, lifting or straining. Bruising, swelling and soreness are common and should subside over time. As soon as your energy has returned, you can take short walks, which are good for your circulation.
You will have several follow-up visits with Dr. Raj so he can check your healing, remove your stitches and answer any questions you have. Dr. Raj will also clear you to return to work, exercise and engage in the rest of your normal activities. Expect to take one to two weeks off from work and four to six weeks off from your regular exercise routine.
Breast Lift Results
After surgery, your breasts should look youthful and perky, and feel firm. You will likely feel more comfortable wearing bathing suits and low-cut tops and dresses, thanks to your improved breast contour.
Because Dr. Raj sculpts the breast tissue (as opposed to simply tightening the breast skin), your breasts should maintain their improved position and appearance for a very long time. As long as you do not become pregnant or fluctuate dramatically in weight, you can expect to enjoy your results for many years!
Schedule a Breast Lift Consultation
Would you like to learn more about breast lift and how it can restore a more youthful and attractive breast contour? Dr. Raj invites you to schedule a breast lift consultation with him. Contact Raj Plastic Surgery to make an appointment.