These Facial Plastic Surgeries Can Get Rid of Your Tired Appearance
Submitted by Dr. Joyesh Raj on Tue 01/18/2022 - 09:00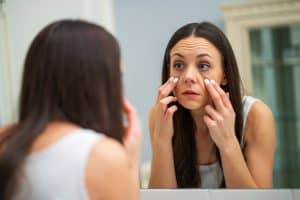 Your morning routine can be disheartening when you look tired despite a full night of sleep. No matter how much you reduce stress, apply anti-aging lotions or increase your water intake, your exhausted appearance remains. Dr. Joyesh Raj is a renowned plastic surgeon who can tailor your facial rejuvenation procedure(s) to address your unique needs for a well-rested look.
Dr. Raj is board certified by the American Board of Plastic Surgery and a top facelift surgeon in Cleveland and surrounding areas. As Chief of Plastic Surgery at Fairview Hospital, he delivers safe and effective results using advanced surgical techniques and technology. Dr. Raj can reduce or eliminate your chronic tired appearance through one or more facial plastic surgeries.
Eyelid Surgery (Blepharoplasty)
The eyelids and surrounding skin tissues are thin and often show signs of aging before the rest of your face. Drooping eyelids caused by sagging skin, weakened muscles and displaced fat deposits can make you appear fatigued and even affect your ability to see without physically lifting the upper eyelid with your fingers. Blepharoplasty restores an elevated eyelid appearance by removing excess tissue and tightening the underlying muscles. Lower eyelid surgery can address under-eye bags and dark circles that contribute to a tired look.
Forehead Lift (Brow Lift)
The forehead and eyebrows suffer the effects of gravity and natural aging and often droop due to sagging skin. A brow lift, or forehead lift, removes the loose skin tissue and fat pockets from the forehead and reduces horizontal forehead lines. The procedure can be combined with eyelid surgery and raises the eyebrow position, so you look happy, rested and energetic.
Facelift
Facelift corrects several signs of aging and can turn the clock back up to 10 years. Dr. Raj will ensure your facelift results look natural and youthful and preserve your unique features. The procedure is suitable for men and women with sagging skin in the mid-face and lower face and moderate to severe lines and wrinkles around the nose and mouth. A facelift reduces sagging tissues that often make you appear older, tired and unhappy.
Non-Surgical Facial Rejuvenation with InMode Mopheus8 Microneedling with Radiofrequency
Morpheus8 works similarly to a microneedling tool, but rather than simply prick the skin, this device also incorporates radiofrequency, which triggers that collagen and elastin production at a deeper level that microneedling can't reach. The Morpheus8 treatment allows for more dramatic results at a much faster rate.
Non-Surgical Facial Rejuvenation with Injectables
Injectables can complement your facial plastic surgery results by restoring volume and a supple appearance. Raj Plastic Surgery offers neuromodulator injectables such as Botox and Dysport that work to improve dynamic wrinkles caused by repeated facial expressions.
Dermal fillers including Juvéderm, Restylane and Voluma add volume to several areas of the face for a softer complexion. Some of these injectables may alleviate a tired appearance by smoothing lines and wrinkles and temporarily immobilizing the muscles that lead to forehead lines, frown lines between the brows and crow's feet on the outer corners of the eyes.
Schedule Your Facial Plastic Surgery Consultation in Cleveland
To request your facial plastic surgery consultation with Dr. Raj, call or email our practice today.