Sunscreen Tips for the Summer
Submitted by Dr. Joyesh Raj on Sat 06/17/2017 - 09:00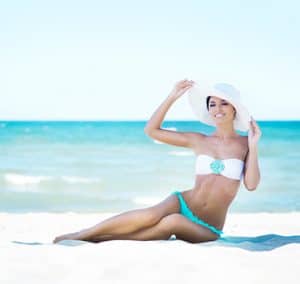 As the days get longer and the weather gets warmer, Cleveland, OH, plastic surgeon Dr. Joyesh Raj wants to remind everyone about the importance of sun protection. According to the Centers for Disease Control and Prevention, the sun's UV rays can damage your skin in as little as 15 minutes! Sun damage comes in many forms: sunburns, dry skin, uneven pigmentation, age spots and wrinkles. In order to protect your skin's health and beauty, follow these sunscreen tips.
Use SPF 15 or Higher
Sunscreen with an SPF of 15 greatly reduces your risk of sun damage. Don't forget to protect your lips and scalp from the sun, too. Use a lip balm with SPF of 15. Protect your scalp by wearing a hat or misting a sunscreen spray on your hair part.
Look for Broad Spectrum Protection
The sun emits two kinds of UV rays. UVA rays have the ability to penetrate deep into the skin's underlying layers, and can cause premature skin aging (e.g., wrinkles, age spots). UVB rays can damage the skin's topmost layers. Unprotected exposure from UVB rays can increase your risk of skin cancer. Protect your skin from both UVA and UVB rays by using broad spectrum sunscreen.
Reapply, Reapply, Reapply
Sunscreens wear off; most only offer protection for about two hours. Therefore, make sure to reapply sunscreen every two hours or as instructed on the sunscreen bottle. You should also reapply sunscreen after swimming or sweating profusely.
Check the Expiration Date
Sunscreen does expire. Even if your sunscreen has no expiration date listed, it has a shelf life of no more than three years. So if you've been using the same bottle for three summers in a row, it's time to buy a new one.
Apply Sunscreen Year Round
The sun never rests as its UV rays can still harm your skin during cloudy weather. Get in the habit of applying sunscreen whenever you step outside, no matter what the weather is like. Doing so can help your skin look healthy, young and radiant for years to come.
How to Treat Sun Damage
Has years of sun damage taken a toll on the appearance of your skin? Dr. Raj offers several treatment options to relieve sun damage, including laser skin resurfacing, age spot removal, facial peels and microdermabrasion. Not sure what treatment is right for you? Dr. Raj offers free skin care analysis to all patients. After evaluating your skin type and concerns, the trusted plastic surgeon can design a treatment plan that is customized to meet your unique needs and goals.
To schedule your consultation with Dr. Raj, please call (440) 808-8030 today.