Refresh Your Look for the New Year with Facial Plastic Surgery or Cosmetic Treatments
Submitted by Dr. Joyesh Raj on Mon 11/14/2022 - 09:00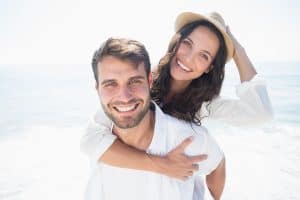 With the new year approaching, many people are choosing new year's resolutions to help them achieve a better version of themselves in 2023. For some, those goals may involve facial plastic surgery or cosmetic treatments to combat signs of aging and other aesthetic concerns. Now is a great time to renew your appearance with our board-certified plastic surgeon, Dr. Joyesh Raj, in Westlake, Ohio.
Dr. Raj has a special interest in face procedures and tailors each surgery or treatment to your needs. He will recommend an approach that will improve your areas of concern and take a few years off of your overall complexion. Some of the available face procedures at Raj Plastic Surgery include:
Eyelid Surgery
Blepharoplasty, or eyelid surgery, is one of the most popular face procedures in the United States. Drooping eyelids and under-eye bags can make you appear tired or angry all the time. Eyelid surgery restores a well-rested, youthful look by correcting sagging eyelids, puffiness, wrinkles in the eye area and other concerns with the upper or lower eyelids.
Facelift
Facelift focuses on the mid- and lower third of the face and the upper neck and submental (under the chin) regions. With a focus on natural-looking results, Dr. Raj removes loose skin tissue, repositions displaced fat and smooths lines and wrinkles. Facelift can take 10 years off your appearance, so you look like a younger version of yourself.
Forehead Lift
Deep creases along the forehead and between the brows can make you appear tired, stressed or angry. Forehead and brow lift improve these folds for a younger appearance that improves self-confidence and first impressions. The procedure removes excess skin and fat deposits in the forehead and brows, tightens soft tissues and elevates the brows to a more aesthetically pleasing position.
Neck Lift
The neck may age faster than the face due to thinner skin tissues, sagging skin, neck bands and fat accumulation along the jawline and under the chin. Neck lift tightens muscles, removes excess fat and redistributes remaining fat deposits and tissues for a smoother neck contour and improved jawline definition. The procedure addresses jowling, double chin and loose skin.
Chin Implants or Augmentation
Men often wish for a stronger chin while women may want a softer profile. Chin augmentation with chin implants, fat transfer or jawbone modifications can improve the shape and projection of the chin. Whether you struggle with a naturally weak chin or have concerns from a congenital issue or previous injury, Dr. Raj can improve your facial profile with chin augmentation.
Rhinoplasty
Dr. Raj has given many patients beautiful results with rhinoplasty (nose surgery) for aesthetic or functional issues. Rhinoplasty can improve breathing problems caused by a deviated septum or cosmetic concerns, such as a crooked nose, bulbous tip or flared nostrils.
Laser Treatments
Laser treatments at Raj Plastic Surgery can improve skin concerns with minimal downtime. These minimally invasive technologies can improve age spots, unwanted hair, skin discoloration, uneven skin texture, certain skin disorders, sun spots, unsightly veins and loose skin. You can enjoy visible results soon after your laser treatments with Dr. Raj.
Lip Injections
Dr. Raj uses injectable fillers to alter the size and shape of the lips. Lip injections are great for people with naturally thin lips or an uneven smile due to a thin upper lip. These injectables fill in lip lines and provide fuller lips with non-surgical lip enhancement that may last up to a year.
Injectables
Dr. Raj offers various injectables, including Botox, Dysport, Juvéderm, Restylane and Sculptra. Some injectables provide immediate results while others smooth lines and wrinkles and restore volume over time. These non-surgical cosmetic treatments are less invasive ways to combat moderate to severe signs of aging with results in time for the new year.
Schedule a consultation with Dr. Raj in Westlake, Ohio to discuss your facial concerns. Contact Raj Plastic Surgery at (440) 808-8030 or schedule a consultation online.