Qualities to Consider When Picking a Plastic Surgeon
Submitted by Dr. Joyesh Raj on Sun 03/28/2021 - 09:00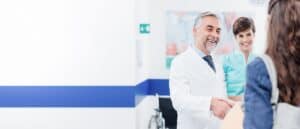 When selecting a plastic surgeon for your chosen cosmetic procedure, there are many factors to consider. As you can imagine, education, training and board-certification in plastic surgery are non-negotiables. Experience in your desired procedure is also essential — a surgeon who performs your desired procedure on a regular basis can give you the most realistic expectations of your treatment.
In your search for the right plastic surgeon, don't settle for someone who merely "looks good on paper." Upon meeting your surgeon, you should have a gut feeling that he or she is the best person for the job. The surgeon should demonstrate certain qualities that will impact your overall treatment experience.
Here, Dr. Joyesh Raj suggests some qualities to consider when making your decision:
Empathy
Undergoing any surgery, including elective cosmetic surgery, is an important experience in your life. You should approach it feeling confident that your surgeon understands and validates your motivations and goals.
It should become clear during discussions with your surgeon that he or she takes your care seriously and wants you to feel safe and comfortable. If your instincts tell you otherwise, look elsewhere.
Clear Communication and Patience
Excellent plastic surgeons take the time to discuss the ins and outs of surgery and answer your questions thoughtfully. You should get the sense from speaking to your surgeon that he or she wants you to be informed and confident in your treatment decisions. If you feel rushed or ignored during your discussions, you could end up unhappy with your results.
Integrity
Reputable plastic surgeons have enough professional integrity to say no in situations when operating on a candidate would be inappropriate or unsafe (e.g., if a candidate is not healthy enough to undergo surgery or a candidate's expectations are impractical). They are also quite candid about what plastic surgery can and cannot achieve. Beware of any surgeon who promises you perfection or glosses over the safety risks of surgery.
Commitment to Training and Education
Think of your own profession: you are probably encouraged to advance your skills and knowledge with ongoing training and education. Your surgeon should demonstrate a similar commitment, whether through involvement in professional organizations or regular attendance at industry meetings. The best surgeons stay at the forefront of new advances in order to offer patients the safest, most effective treatments.
Dr. Raj is an experienced, respected plastic surgeon serving the entire Cleveland area. He has built his practice on a foundation of empathy, integrity and the pursuit of excellence. To consult with Dr. Raj about your plastic surgery needs, please call or email us today.