Improve Breast Shape and Fullness by Combining Breast Lift with Implants
Submitted by Dr. Joyesh Raj on Mon 05/27/2019 - 09:00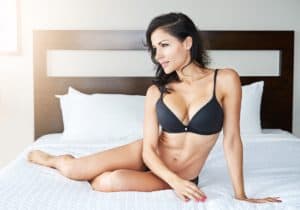 If you are considering your breast surgery options, you may assume that you need to choose between breast augmentation and breast lift. But Dr. Joyesh Raj wants to set the record straight: in most cases, it is safe to combine the two procedures to enjoy the maximum benefits of both. Read on as Dr. Raj explains the advantages of doing so.
Achieve Perkier and Fuller Breasts Simultaneously
Breast augmentation is intended to increase the size and fullness of naturally small breasts or breasts that have lost natural volume because of pregnancy, breastfeeding, weight loss or the aging process. By placing saline or silicone implants, Dr. Raj can help breast augmentation patients achieve voluptuous, shapely breasts.
Breast lift is intended to reposition saggy, deflated-looking breasts higher on the chest wall. During the procedure, Dr. Raj eliminates excess loose skin and reshapes the breast tissue in a more youthful arrangement on the chest. He can also reposition the nipple-areolar complex higher on the breast mound. This creates a perkier breast contour.
Individually, these procedures can produce extraordinary results. But breast lift will not improve the size of the breasts, and breast augmentation will not improve the position of the breasts. By combining the two procedures, Dr. Raj can simultaneously lift and enhance the breasts for an overall improved breast contour.
Combining Procedures Is Convenient and Cost-Effective
If you qualify for a combination procedure, there are other worthwhile benefits. Instead of having two operations and separate recoveries, you only need to plan for one operation with a single recovery. Also, combining procedures is more cost-effective and can ultimately reduce your expenses. Instead of paying two separate anesthesia and facility fees, you will only be billed for them once.
Consult with Dr. Joyesh Raj Today
If you would like to discuss your breast surgery options with board-certified plastic surgeon Joyesh Raj, we invite you to schedule an informational consultation at our Cleveland practice. Dr. Raj can evaluate your breasts and help you determine the best solution for your personal needs and goals.
To schedule an appointment, please call 440.808.8030 or send us an email today.