How To Know If You Could Benefit From Breast Lift
Submitted by Dr. Joyesh Raj on Fri 09/18/2020 - 09:00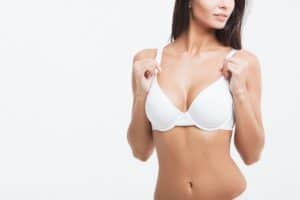 If you feel embarrassed or ashamed of your natural breast appearance, you may consider your surgical treatment options and wonder whether breast lift is right for you. Dr. Joyesh Raj is one of the leading breast surgeons in the Cleveland area and has helped countless women just like you evaluate the available options. He recommends asking yourself some key questions to determine whether breast lift might benefit you.
Are your breasts saggy or do they look "deflated"?
The first indication that you could benefit from breast lift is that your breasts appear saggy or droopy on your chest. This may be because you have had children, breastfed or lost a significant amount of weight in a relatively short period of time. Aging is another factor that can cause or contribute to sagging.
If your breasts lack a full shape and instead look flat or deflated, lifting and tightening your breast tissue and removing loose skin will make a noticeable improvement. Breast lift does not significantly change the shape of your breasts, but it rearranges the tissues for a more attractive result.
Do your nipples tilt downward or sit low on your breasts?
Stand in front of a mirror and look at your side profile. Which way do your nipples point? If they point downward or if they sit very low on your breasts (i.e., below the natural breast crease line), it indicates you could benefit from breast lift.
During breast lift, low or downward-pointing nipples are elevated higher on the breast mound in a perkier position. Enlarged or stretched-out areolas can be reduced as well, if desired.
Do your breasts sit in line with one another?
Breast asymmetry is more common than you may think. If your breasts are asymmetrical and one sits slightly higher on the chest than the other, breast lift can bring them in line with one another. More serious cases of dramatic asymmetry may require adding or removing breast volume through breast augmentation or breast reduction.
Determine Your Best Option With Dr. Raj
The most reliable way to determine your best surgical option is to consult with a board-certified plastic surgeon like Dr. Raj. With his practiced eye for proportion, symmetry and beauty, he can evaluate your breasts and suggest the type of surgery that will produce the ideal cosmetic result.
Some of Dr. Raj's breast lift patients want perkier and fuller breasts. If you do, too, Dr. Raj may recommend combining breast augmentation with breast lift to add shape and volume while removing redundant skin and lifting your nipples. He can explain your implant options in greater detail during your consultation.
To request a consultation with Dr. Raj, please contact our practice today.