How to Choose the Best Injectable for Your Wrinkles
Submitted by Dr. Joyesh Raj on Fri 06/17/2022 - 09:00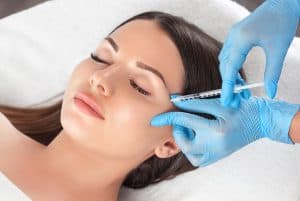 With so many types of injectable treatments available today, it can be difficult knowing which brand is best to tackle your wrinkles. Dr. Joyesh Raj and his team are considered among the best injectors in Westlake & Cleveland, Ohio. Their expertise in this area allows them to not only achieve beautiful, natural results for their patients, but also provide knowledgeable advice about which type of injectable is preferable for a given situation.
Understanding the Types of Injectables
Most injectables fall into two primary categories:
Dermal fillers (like Juvederm and Restylane) use hyaluronic acid to add volume to the skin, thereby giving the face a softer look with fewer or diminished lines and wrinkles.
Neurotoxins (like Botox and Dysport) use toxins to temporarily freeze facial muscles. Muscle movements cause lines and wrinkles to form on the face (and they linger long on faces where skin has aged and is less elastic). By immobilizing these muscles for a period of months, the lines have a chance to soften and even disappear.
Where Are Your Lines and Wrinkles?
The appropriate choice of injectable is often determined by the location of the line or wrinkle you would like to treat. Dermal fillers are best for the nasolabial folds (the lines that extend from the corners of the mouth to the nose), marionette lines (around the mouth), and wrinkles that form on the cheeks and the middle section of the face. Neurotoxin injectables are most suitable for forehead lines, vertical frown lines between the brows and crow's feet.
How Severe Are Your Wrinkles?
The deepness of your wrinkles often dictates which injectable is appropriate. Overall, Restylane is best for mild wrinkles, Juvederm is appropriate for moderate wrinkles and Juvederm Voluma and Restylane Lyft are strong enough to address the deepest wrinkles. In areas where neurotoxin is preferable to a filler, Dysport is better for mild to moderate wrinkles while Botox can better handle moderate to severe lines.
How Long Do You Want Your Results to Last?
While all injectable treatments are temporary, the amount of time the results stay visible can differ. Botox and Dysport injections tend to last about three to four months. Juvederm and Restylane (including Restylane Lyft) last closer to six months. Juvederm Voluma typically lasts for about a year, with some patients enjoying their results for 18 months. Brief, periodic appointments are a great way to maintain the look you have achieved with subsequent injections.
Consult with Our Experts
One of the best reasons to visit Raj Plastic Surgery is that our amazing team has an in-depth knowledge of which injectables (and in which amount) produce the best results for a particular situation. You can trust us to provide you with smoother, more youthful skin. Call (440) 808-8030 for an appointment at our Westlake office.