Getting Rid of "Bra Bulge" with Liposuction
Submitted by Dr. Joyesh Raj on Sat 02/02/2019 - 09:00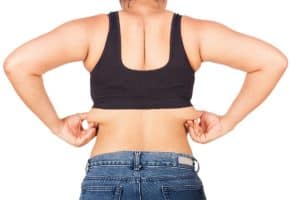 Is stubborn back fat preventing you from feeling attractive and confident? Are you having a hard time wearing your favorite styles of clothing because of visible bulging around your bra line? If so, Dr. Joyesh Raj can help. The trusted Cleveland plastic surgeon has helped women look and feel their best with surgical body contouring solutions.
What Is Bra Bulge?
"Bra bulge" refers to rolls of unwanted fat that develop on the upper back around the bra line, intensified by bra straps or clasps digging into the skin. Unfortunately, bra bulge is nearly impossible to spot tone or reduce with exercise or diet. Even if you are at your ideal weight, you might still struggle with the tricky area around your bra line.
Achieve the Smooth Silhouette You Desire
Liposuction is the gold standard to treat back fat along the bra line and create a smooth silhouette. During the procedure, Dr. Raj creates several miniscule injections and inserts a thin, hollow tube just underneath the skin. After breaking up the fat with the tube, Dr. Raj removes it from the body with gentle suction. He deliberately focuses on the area between the armpit and the hips to create a more attractive-looking torso.
After surgery, bulging around the bra straps and clasps is significantly less noticeable, and the back looks slimmer overall. Because the incisions and cannula are so tiny, scarring is virtually inconspicuous. Once the fat cells have been removed from the area, they do not return.
Discuss Your Candidacy for Liposuction with Dr. Raj
The best way to determine whether liposuction is a sensible solution for your needs is to meet with Dr. Raj in person. During your consultation, he will examine your problem area(s) and inquire about your health and medical history to ensure you are a good candidate for liposuction.
Based on the information gathered during the consultation, Dr. Raj will lay out your treatment options. As long as you are in good general health, do not have any medical problems that could compromise the operation and have reasonable expectations of the procedure, it is likely that liposuction could work for you.
To schedule an in-person consultation with Dr. Raj, please call or email our practice today.