Fight the Effects of Gravity With Facelift
Submitted by Dr. Joyesh Raj on Sun 10/18/2020 - 09:00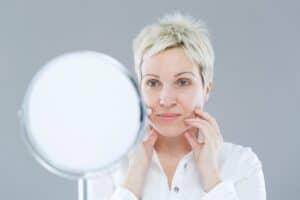 Gravity is an inevitable fact of life. What was once a taut and lively facial appearance will eventually start to sag and droop, thanks to the forces weighing it down. With the passage of time, you may find your cheeks look droopy, your jawline has slackened and the skin of your neck resembles the fleshy area underneath a turkey's throat.
Fortunately, with the help of Cleveland-area plastic surgeon Joyesh Raj, you can do something about the effects of gravity on your face. Depending on your specific anatomy and treatment goals, Dr. Raj may recommend you undergo facelift to reverse the effects of gravity and recapture a refreshed appearance.
How Gravity Affects Your Face
With advancing age, the structures of the face and neck start to become vulnerable to the effects of gravity. The body's reserves of collagen and elastin — proteins considered the building blocks of firm, taut skin — diminish, and the skin no longer has the structural support it needs to retain elasticity and suppleness. Furthermore, the complex network of facial muscles deep beneath the surface of the skin lose strength and tone. The pull of gravity exacerbates the laxity of the skin and muscles.
Facelift surgery reverses sagging and drooping caused by gravity by lifting the skin, tissues and muscles of the mid- and lower face and neck upward and anchoring them into place. Modern facelift techniques and technology enable surgeons like Dr. Raj to deliver results that look natural and beautiful.
How Is Facelift Performed?
Facelift is performed through incisions nestled in the hairline, starting at the temples and continuing down to and around the ears. Outdated facelift techniques simply lifted the loose skin without addressing the underlying network of muscles and tissue; unfortunately, this often resulted in a frozen or "windswept" look. Instead, Dr. Raj prefers to work on the facial muscles, tissues and fat together. This comprehensive approach allows him to restore sunken cheek fat to its original position, sharpen up the jawline and create a more elegant neck contour.
Dr. Raj's understanding of facial anatomy and surgical skill set produce natural-looking results that last for many years following surgery. Though your facial structures will continue to age, your facelift "turns back the clock" by about seven to 10 years, ensuring you will always look younger than you would if you did not have facelift.
Your facelift will be completely tailored to your individual needs and goals. You may elect to combine another age-defying procedure to complement your facelift. For instance, Dr. Raj may perform blepharoplasty or brow lift to rejuvenate tired-looking eyes, or add a facial implant for youthful fullness or volume. The choice is yours, and Dr. Raj will guide you to make the right decision for your needs.
For more information about fighting the effects of gravity with facelift, please contact us today.