Choose the Right Breast Surgery for Your Needs At a Consultation
Submitted by Dr. Joyesh Raj on Wed 12/14/2022 - 09:00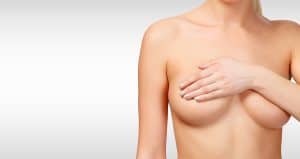 Some women interested in breast augmentation, breast lift or another breast surgery may find that a different procedure is more beneficial to their cosmetic goals. A one-on-one consultation with our board-certified plastic surgeon, Dr. Joyesh Raj, can help you determine the right breast procedure for your needs. Whether you're interested in a larger or smaller bust or struggle with sagging breasts, Dr. Raj can help you reach your ideal breast size and shape.
Raj Plastic Surgery offers a variety of breast procedures, including:
Breast Augmentation
Dr. Raj can enhance your breast size with saline or silicone implants. Several aspects of this procedure can be customized, including the size, shape and texture of the implants, for natural-looking or dramatic results that complement your body shape.
Breast Lift
Many women struggle with deflated-looking breasts as they age, especially after pregnancy or weight loss. Breast lift elevates the breast tissues and alters the nipples for a more youthful bust. The procedure can be combined with breast augmentation to restore fullness and adjust breast position for perkier, more voluminous breasts.
Breast Reduction
Breast reduction reduces the size of overly large breasts that affect women physically and psychologically. Painful symptoms such as back pain, bra strap indentations and skin irritation can affect your quality of life. Breast reduction with Dr. Raj decreases the breast size so that your bust complements your frame instead of overpowering your body shape. The procedure also lifts the breasts higher on the chest.
Breast Revision
Breast revision may be necessary if you already have breast implants and are unhappy with your results or are experiencing a complication, such as capsular contracture, implant leaking or implant rupture. Breast implant revision surgery replaces the damaged implant to restore symmetry and a natural breast appearance.
Breast Surgery for Men
Breast reduction for gynecomastia removes excess glandular (breast) tissue or fat from the breasts in men. This condition may be linked to genetics, medications, lifestyle or other factors. Enlarged male breasts significantly impact men's quality of life. Dr. Raj offers male breast reduction to correct gynecomastia and provide a more masculine chest contour.
Your Breast Surgery Consultation
Dr. Raj will listen to your cosmetic concerns and evaluate your breasts during your consultation. He will recommend a surgical approach to reach your goals and discuss the details of the procedure and recovery process, so you feel comfortable with your decision. Dr. Raj is board certified by the American Board of Plastic Surgery and is Fairview Hospital's Chief of Plastic Surgery in Cleveland, Ohio.
He is dedicated to his craft and regularly speaks at national and international meetings about cosmetic and reconstructive surgery. Dr. Raj provides safe, effective breast surgery to his patients. View his before and after gallery to visualize your potential breast surgery results.
If you're interested in breast surgery, contact Raj Plastic Surgery at (440) 808-8030 or schedule a consultation with Dr. Raj online.