3 Benefits of a Tummy Tuck After Childbearing
Submitted by Dr. Joyesh Raj on Sat 03/19/2022 - 09:00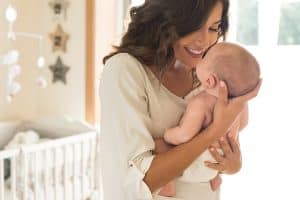 Pregnancy causes numerous body changes, and many women find their post-baby body unrecognizable due to loose skin, stretch marks, excess fat and weakened abdominal muscles. The tummy tuck (abdominoplasty) is one of the most popular plastic surgeries in the United States, and the procedure has helped tens of thousands of mothers restore their pre-pregnancy figures after childbearing. Our board-certified plastic surgeon can give you a thinner, flatter body contour with a tummy tuck.
1.  A Tummy Tuck Corrects Diastasis Recti
As the uterus grows throughout your pregnancy, the abdominal muscles are stretched thin. The pulling pressure can cause the vertical bands of muscles found in the middle of your abdomen to separate, called diastasis recti or diastasis recti abdominis. These muscles are responsible for the "six-pack" many people strive to achieve through targeted exercises. The stretched muscles can bulge in the middle of your stomach, creating a noticeable gap when you tighten the abdominal muscles. You may experience low back pain and have difficulty lifting objects. It is common for pregnancies with multiples or a large baby to cause diastasis recti. Though, petite women are also at risk.
Women with diastasis recti may have a potbelly or pooch appearance because of the loosened mid-line tissues, which occurs in an estimated 30 percent of pregnancies. A cesarean birth further weakens the abdominal wall.
A tummy tuck tightens and repairs the weakened abdominal muscles so you can enjoy a smooth, flat abdominal shape free from muscle separation and the associated symptoms.
2.  Tummy Tucks Remove Loose, Sagging Skin from Pregnancy
After childbirth, many women struggle with loose, sagging skin in their abdomen. People who lose a massive amount of weight may also experience excess skin tissue because the abdominal skin cannot snap back and retract after the sudden weight gain involved. The tummy tuck is the ideal procedure to eliminate the extra skin and works by creating an incision between the pubic hairline and navel. Dr. Raj will repair the musculature by tightening the stretched abdominal muscles and removing excess skin and fat.
3.  A Tummy Tuck Eliminates Lower Abdominal Stretch Marks
Pregnancy can lead to stretch marks in multiple areas, including the thighs, buttocks, flanks (love handles), abdomen and breasts. While a tummy tuck cannot eliminate all of your pregnancy-related stretch marks, it can remove the streaks located in your lower abdomen. The abdominoplasty procedure eliminates stretch marks in this area because the excess skin tissue is removed from the lower abdomen, and a new navel area is created. If you have stretch marks in the upper abdominal region, the tummy tuck procedure will likely relocate them to the lower abdomen.
Schedule Your Tummy Tuck Consultation in Westlake
If you struggle with diastasis recti, loose skin and lower abdominal stretch marks, the tummy tuck procedure can restore your body shape. To request a consultation with Dr. Raj, please call or email our practice in the Cleveland area today.