Why the Neck May Age Before the Face: Neck Lift Can Help
Submitted by Dr. Joyesh Raj on Tue 08/16/2022 - 09:00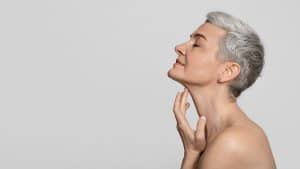 Men and women tend to focus their anti-aging efforts on the face, using creams and preventive treatments to stave off lines and wrinkles and maintain a youthful appearance. The neck region may not be a focus in skincare routines, but these tissues are often the first to show the wear and tear of aging with jowling around the chin and jawline, visible neck bands and loose skin.
Our board-certified plastic surgeon at Raj Plastic Surgery offers neck lift to balance your face and neck appearance and restore a younger contour.
How Does the Neck Age? 
The neck skin loosens and may show signs of aging before the face. Your skin and tissues undergo structural changes starting in your 20s, when collagen, elastin and hyaluronic acid stores slow down. These compounds support, protect and moisturize your tissues to prevent wear and tear. Your skin begins to lose its supple luster with decreased production of these substances, with thinning skin that does not bounce back like it once did. The fat pockets in the face and neck shrink, clump together and sink lower. A once-voluminous cheek contour may appear hollow while the fat settles around the chin and jaw, called "jowling." The lower part of the face and neck begin to appear baggy.
These structural changes are more profound in the neck with sagging skin, submental fat (turkey neck) and loose neck muscles. Jowling and a sagging neck can dramatically affect your overall appearance, even if your face shows little to no signs of aging.
Visibly loose neck skin, neck bands and jowling work against your efforts to maintain a youthful complexion, but neck lift can address these cosmetic concerns.
How Neck Lift Works 
Joyesh Raj has ample experience and talent working with face and neck tissues. Neck lift can be combined with facelift for comprehensive results if both areas exhibit wear and tear from age and lifestyle factors. The procedure removes the loose skin tissue and addresses jowling by removing the excess fat from the chin, jaw and neck. Dr. Raj redistributes the remaining fat cells and tightens the platysma muscles for an improved neck contour. He repositions the neck tissue and then re-drapes the skin for an elegant neck appearance with smooth skin.
Neck lift patients enjoy better jawline definition and firmer tissues for many years. Though the procedure will not prevent further aging, it can revitalize your appearance and help you age more gracefully with a balanced face and neck.
If you struggle with loose neck skin or "turkey neck," contact Raj Plastic Surgery to schedule a consultation with our board-certified plastic surgeon. Call our Westlake and Cleveland, Ohio offices at (440) 808-8030 or fill out our online contact form.