Breast Implant Placement: Over vs. Under the Muscle
Submitted by Dr. Joyesh Raj on Fri 12/29/2017 - 09:00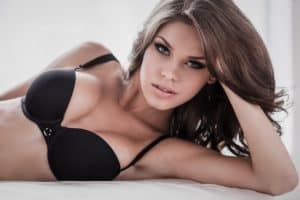 One of the decisions you will make about your breast augmentation surgery with Dr. Joyesh Raj is whether the implants should be placed beneath your pectoralis major muscle (i.e., your chest muscle) or on top of it. This is a decision that hinges on several factors like your natural body type and the size and type of implants you select. Each approach has its own set of advantages and disadvantages.
Dr. Raj will help you choose the best technique, but you should also do your own research so you can be informed about your options. Read on to review the pros and cons of each approach.
Over the Muscle (Subglandular) Pros and Cons
The over the muscle approach, also known as the subglandular technique, involves placing the implant between the natural breast tissue and the chest muscle. This technique tends to be more common among women with a good amount of native breast tissue, which provides natural coverage for the implant. Subglandular placement usually produces a more pronounced rounded look, which can be appealing to some women but not others.
Pros:
Slightly easier surgical procedure
Slightly shorter recovery time
Less post-operative discomfort because the chest muscle stays intact
Larger implants can be used
No chance of implant distortion when flexing the chest muscle
Cons:
Not recommended for women with little natural breast tissue
Rippling may be more visible with saline implants
Saline implants may be more palpable
Under the Muscle (Submuscular) Pros and Cons
The under the muscle or submuscular approach involves placing the implants below the chest muscle. This is usually a good option for women with little native breast tissue, as the muscle offers greater coverage. The results tend to look more natural than breasts that are placed above the muscle.
Pros:
More implant coverage for a more natural look and feel
Less chance of visible implant rippling
Slightly lower chance of capsular contracture
Cons:
Implants may be subject to distortion when the chest muscle contracts
Slightly longer surgery and recovery period
Recovery may be initially more uncomfortable than after subglandular placement
Temporary loss of chest muscle strength after surgery
Learn More about Breast Augmentation
For more information about your breast augmentation options, Dr. Raj welcomes you to book a consultation at our Cleveland plastic surgery office. Please call or email us today to make an appointment.