Allergan Recalls Textured Breast Implants – Why You Shouldn't Panic
Submitted by Dr. Joyesh Raj on Tue 09/24/2019 - 09:00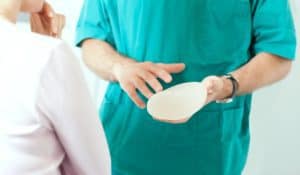 Allergan has recalled its Biocell textured breast implants at the FDA's request and amidst concerns that the implants lead to a rare type of lymphoma.
Breast implant-associated anaplastic large cell lymphoma (BIA-ALCL) is found in scar tissue and fluid near breast implants. It occurs most frequently in patients with textured implants. So far, there are no known cases of BIA-ALCL in women with smooth implants. Of the 573 reported cases of BIA-ALCL, 84 percent have been linked to Allergan textured implants.
No Need to Rush to Your Doctor's Office
If you have breast implants, Dr. Joyesh Raj wants to assure you that there is no reason to panic.
Textured implants are rare in the United States compared to other countries. Only about 5 percent of U.S. breast augmentation patients have textured implants, which feature a rough surface that adheres to the natural breast tissue, preventing the implants from rotating or shifting around in the implant pocket.
The risk of getting BIA-ALCL is very low. According to the American Society of Plastic Surgeons, the current lifetime risk is estimated to be 1:2,207 – 1:86,029 for women with textured implants.
When BIA-ALCL is caught early, it is usually curable. If the lymphoma is limited to the area around the implant, the implant and scar tissue around the implant are removed. In rare, advanced cases where the cancer has spread, further treatment with chemotherapy and/or radiation may be needed.
Do You Have Allergan Biocell Implants?
The FDA says that women with recalled breast implants do not need to have them removed or replaced unless symptoms arise. Symptoms that could indicate BIA-ALCL include breast swelling, persistent pain, lumps or an unexpected change in breast shape. If you have Allergan Biocell breast implants and are experiencing symptoms consistent with BIA-ALCL, make an appointment with your doctor for an exam. You may need to undergo imaging and/or an assessment of the fluid or tissue around your implants to confirm or rule out BIA-ALCL.
If you are not experiencing symptoms, you do not need to worry. The best thing you can do for your health is to stay closely attuned to any changes affecting your breasts and bring up any concerns to your doctor.
If you are considering breast implants, the FDA recommends you do your research about the risks of developing BIA-ALCL and other breast implant complications.
A board-certified plastic surgeon like Dr. Raj is the best resource for information about breast implant safety. To get in touch with Dr. Raj, please contact his Westlake office today.